The best places and tourist attractions in Paracas
Paracas is a very popular place among the destinations to visit on a trip to Peru. Due to its proximity to Lima and its incredible landscapes, it is a place very chosen by tourists who come curious to know the country.
If you are thinking of visiting this city and its surroundings on your next trip, keep reading, since in this article we are going to mention the best places to visit in Paracas.
What should you know about Paracas?
This port city, nowadays, is one of the most attractive areas of the Peruvian coast. It is located 261 kilometers away from Lima and 75 kilometers away from Ica.
It has nice weather, since the rains are scarce and the temperatures are mostly warm, but something that characterizes the climate of this coastal city is its strong winds.
Paracas is located in the port area, making it the ideal place to taste delicious typical dishes in which fresh seafood and fish are the main ingredient.
The best 13 tourist places to visit in Paracas
This city has a wide variety of activities for tourists, as well as being the owner of wonderful landscapes.
We want you to be able to fully enjoy your stay in this city, that is why we are going to mention the best tourist attractions in Paracas that we recommend visiting.
1- Paracas National Reserve:
The National Reserve has an incomparable natural setting, which is why we consider it one of the tourist sites in Paracas that you cannot miss.
Extensive virgin beaches, viewpoints and a varied and abundant marine ecosystem make this place an unmissable stop if you are touring the area.
At Guru Explorers we offer the Huacachina & Paracas Full Day Tour (Nature Reserve + Ballestas Islands) in which you can explore and enjoy this area in the best way, touring the reserve and passing through its main viewpoints to be able to marvel at its incredible views.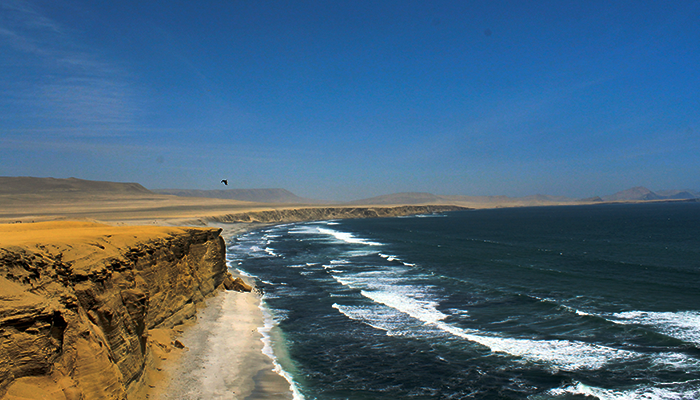 2- Juan Navarro History Museum:
In this history museum you can find ancient vessels and objects. It also has an art exhibition hall.
Its most relevant exhibition shows a wide variety of skulls, including some that are deformed. It is understood that these belonged to the Nazca, Wari, Inca, Chincha and Paracas cultures. These were cultures who inhabited this area between the years 800 a. C. and 1500 d. c.
3- Ballestas Islands:
The Ballestas Islands are characterized by their particular rock formations, and are another of the tourist places in Paracas that we recommend visiting.
Numerous species inhabit these small islands that are part of the National Reserve, which you can get up close to by taking a boat ride.
From Guru Explorers we offer you The best of Huacachina and Paracas in a 2 days Tour so that you can experience the adventure of sailing through the islands and visiting the natural habitat of a varied marine fauna such as Humboldt penguins, sea lions and pelicans, among others.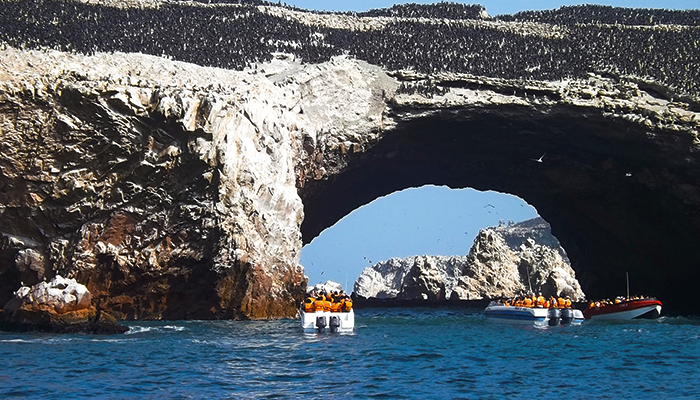 4- The Chandelier:
The Chandelier is an enigmatic and famous geoglyph 180 meters long, it is located on a hill and it is only possible to see it from the sea or the air. So, you will be able to watch it when you are on your sail to the Ballestas Islands Tour.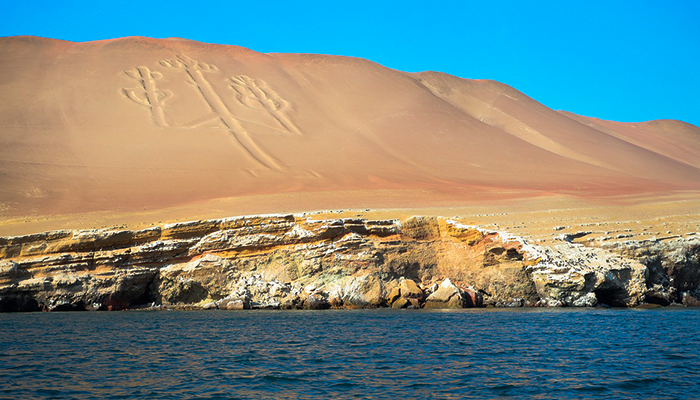 5- Huacachina:
Huacachina is an oasis in the middle of the desert that offers unmissable views, and is located 75 kilometers away from Paracas.
In this oasis you will find a green and colorful lagoon surrounded by palm trees and sand dunes.
If you want to have the opportunity to discover this paradise, at Guru Explorers we offer the Huacachina and Paracas Full Day Tour, where you will visit this renowned tourist attraction and you will also be able to enjoy the practice of adventure sports, such as buggies and sandboarding.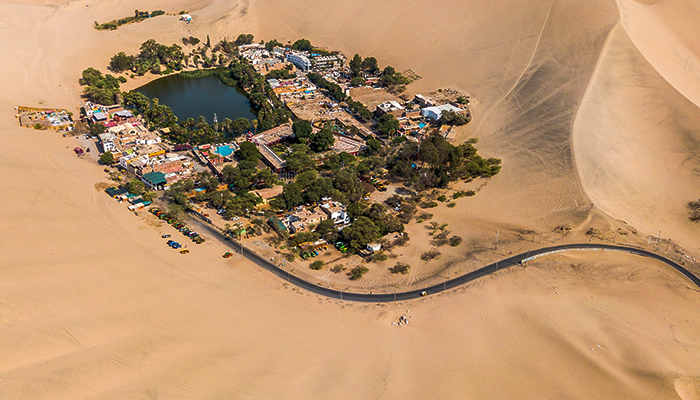 6- Walk along the Boardwalk:
Another place to visit in Paracas is the boardwalk and you can take the opportunity to explore it. It is the ideal place to walk and enjoy a walk at sunset or sit down to taste a pisco sour. Also in this area you can find a variety of restaurants to have dinner and try the typical gastronomy of the coast.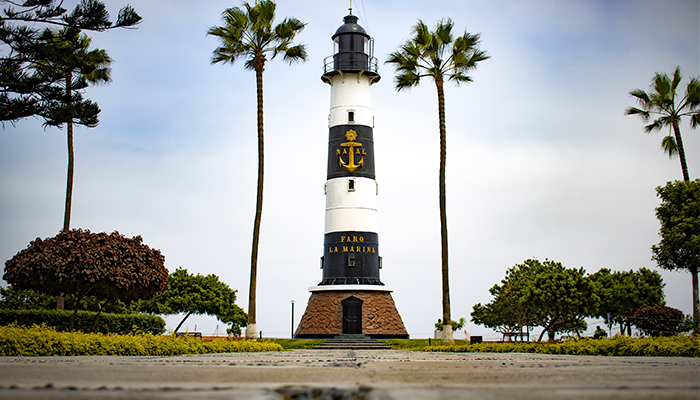 7- Nazca Lines:
187 kilometers away from Paracas is one of the greatest enigmas of Peru; The Nazca Lines.
These lines that are marked on the desert, form a set of geoglyphs and some measure up to 300 meters in length.
They can be appreciated flying over from the air and it is clearly noticeable that they represent figures of animals and plants. 
In order to get to know this incredible tourist spot, at Guru Explorers we offer the Huacachina + Paracas + Nazca Lines of a 2 days and 1 night Tour, which will take you to visit these points of interest and will also allow you to fly over one of the most interesting places in Peru.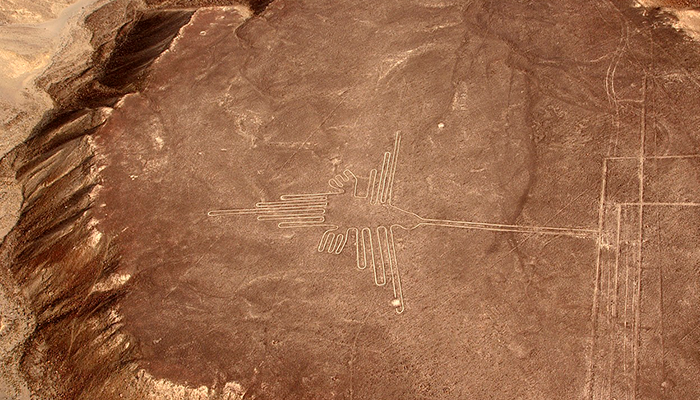 8- Julio César Tello Museum:
In a desert area, we find another of the tourist sites in Paracas that we recommend visiting. It is the Julio César Tello Museum, which in 2018 received mention as the most important museum in Latin America.
Here you will be able to learn in depth about the Paracas culture thanks to all the original archaeological remains and replicas that are exhibited in the museum.
9- Pisco Distillery:
If you are visiting Paracas, this is another of the tourist attractions that you cannot miss on your tour.
Knowing the history, the facilities and the process of elaboration of pisco in the oldest distillery in Latin America is an unmissable activity, which you can carry out with Guru Explorers in the Huacachina + Paracas (Ballestas Islands) + Pisco Distillery Full Day Tour, where you can also be able to enjoy tasting the most emblematic drink of Peru.
10- San Gallán Island:
Another of the ideal tourist places to visit in Paracas is San Gallán Island, located half an hour by boat from the port. It is one of the favorite destinations for surfers, thanks to its large and powerful waves. In addition to surfing, on this island you can see a wide variety of marine fauna and even practice diving.
11- Tambo Colorado:
70 kilometers away from Paracas is the Inca settlement built in adobe, Tambo Colorado. It is one of the Inca ruins that has the best state of conservation. By visiting this archaeological complex you will be able to appreciate an excellent example of Inca architecture.
12- San Jose Ranch:
68 kilometers away from Paracas we find the San José Ranch, a large manor house built at the beginning of the 17th century.
When visiting this ranch, we will be able to admire its architecture, enjoy the surrounding nature, tour its various halls and galleries, visit the catacombs and taste the excellent cuisine of its restaurant.
13- Moron Lagoon:
The Moron Lagoon is another of the oases in the desert that we can find near Paracas. Here, in addition to being able to bathe in its green waters, we can enjoy the flora and fauna that are typical of this area.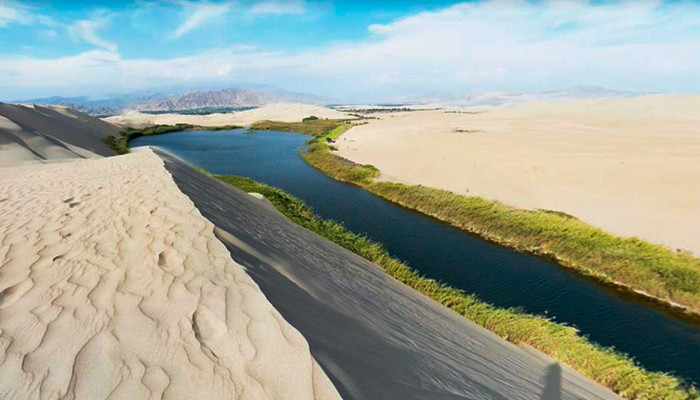 Conclusions
Throughout this article we were able to notice that there are several tourist attractions in Paracas that are worth visiting.
And as we already mentioned, at Guru Explorers we offer different Tours so you can enjoy these incredible places.
Remember, if you are planning a trip to Peru, do not keep the desire, and write down Paracas as one of the destinations that you must visit.