At Guru Explorers, we are in charge of facilitating and improving access to magnificent experiences that in turn, benefit the most vulnerable communities in the locations where we operate and, in this way, we promote responsible tourism in all our trips.
Even though one of our major commitments is to provide tailor-made tours, we have also developed a deep commitment to the sustainability of the services we offer.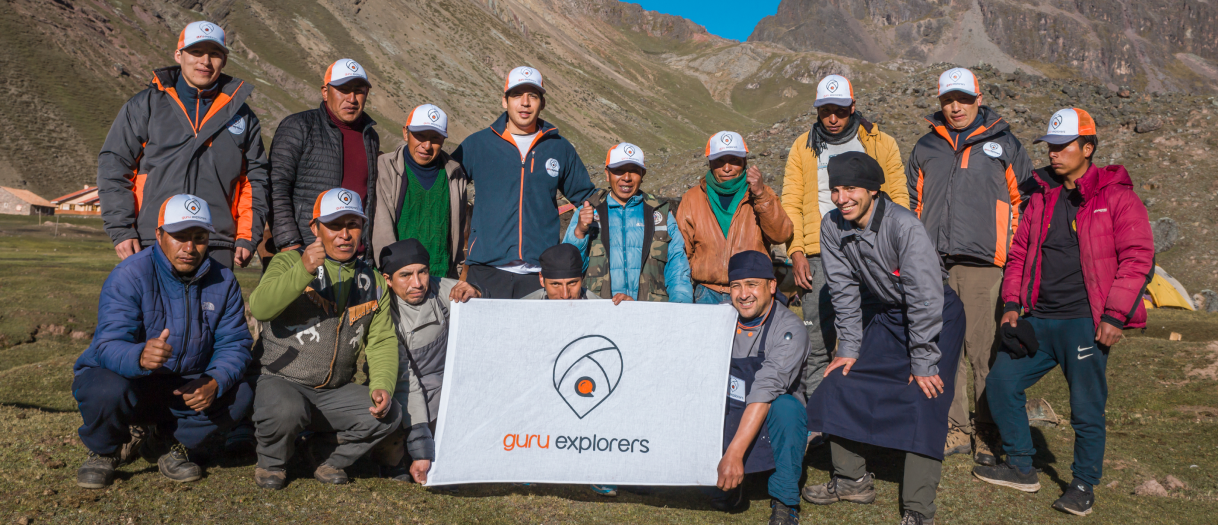 To achieve sustained and sustainable travels, helps us to maintain and consolidate the sense of national identity that characterizes us, allowing us to offer you quality assistance and, above all, a mission that goes beyond monetary gain.
Because of this, one of our main goals has been to generate sources of employment and, consequently, great job opportunities for people who belong to a diversity of local communities in our region. This is how these communities have become the hosts of the different destinations we have had the opportunity to reach.
In addition to the beautiful landscapes we visit in each locality, which is the main reason for travelers' interest, we also like to let all those who have the pleasure of going to the Andes of Peru know the real conditions in which the local inhabitants live their daily lives.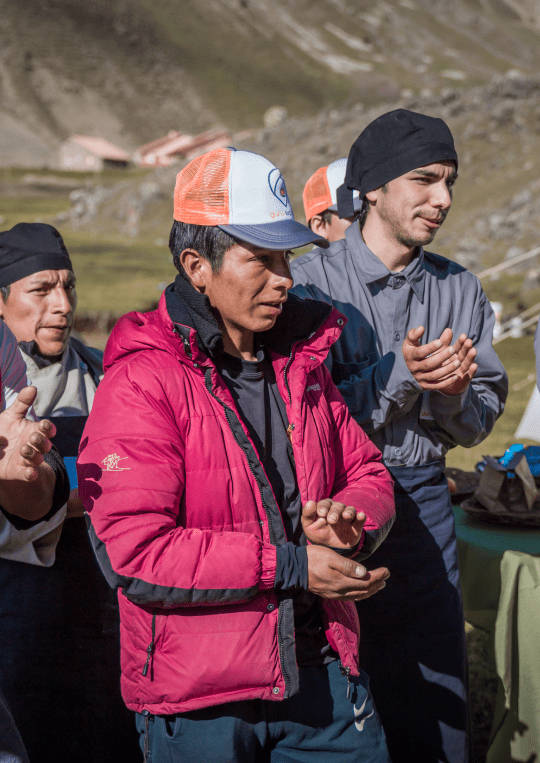 Guru Explorers has been characterized throughout the years not only for creating excellent experiences for our travelers but also for helping the communities that need it most, not only for their knowledge and wisdom also because thanks to them, we promote the constant conservation of our most deeply rooted customs and our culture intact.
That is why more than 90% of our team is made up of local people who belong to various communities, and we refer to both the porters and the muleteers and even the mule service and others.
 So we bet blindly in promoting personal and professional growth of all those members of society who cannot easily access the technological improvements or employment opportunities found in the city or in other parts of the country.
Our primary goal is to create tourism plans that help to generate greater visibility of the communities as well as to achieve the recognition of their handmade skills that the community can provide to the travelers that visit it.
Respecting and promoting the growth of each community's culture is fundamental to its proper integration into the country's tourism.
In this way, we can employ and at the same time, preserve the different environmental resources of each space, while interacting with the economic and intellectual sphere that progressively promotes tourism growth.
¿What is Social Responsibility for Guru Explorers?
Our full support is directed to the underprivileged communities of our beautiful country, Peru.
Mainly, we have focused our social responsibility in collaborating in a significant way in finding some solutions to improve the education of children living in the Andes of Peru; since they are the most affected in terms of the lack of intellectual progress of these communities.
We are in charge of collaborating as much as possible regarding the visibility of the localities, contributing to develop the handmade skills and promoting the ancestral ways of its inhabitants and, at the same time, we work together with non-governmental and nonprofit organizations that represent a fundamental support for the intellectual and technological advancement of the youth that are the future of our nation.
It is a commitment for Guru Explorers to be part of those small but significant actions that can generate a positive change in society.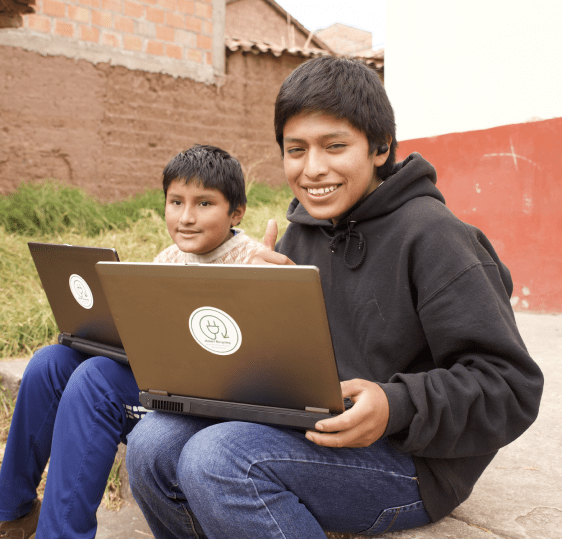 Agreements with Organizations
Undoubtedly, social work is one of the causes that motivates Guru Explorers to continue its labor and it is thanks to this tireless performance that other organizations have been willing to encourage excellent ideas for the progress of the most vulnerable localities of Peru.
ONG Añañau & eSmart Recycling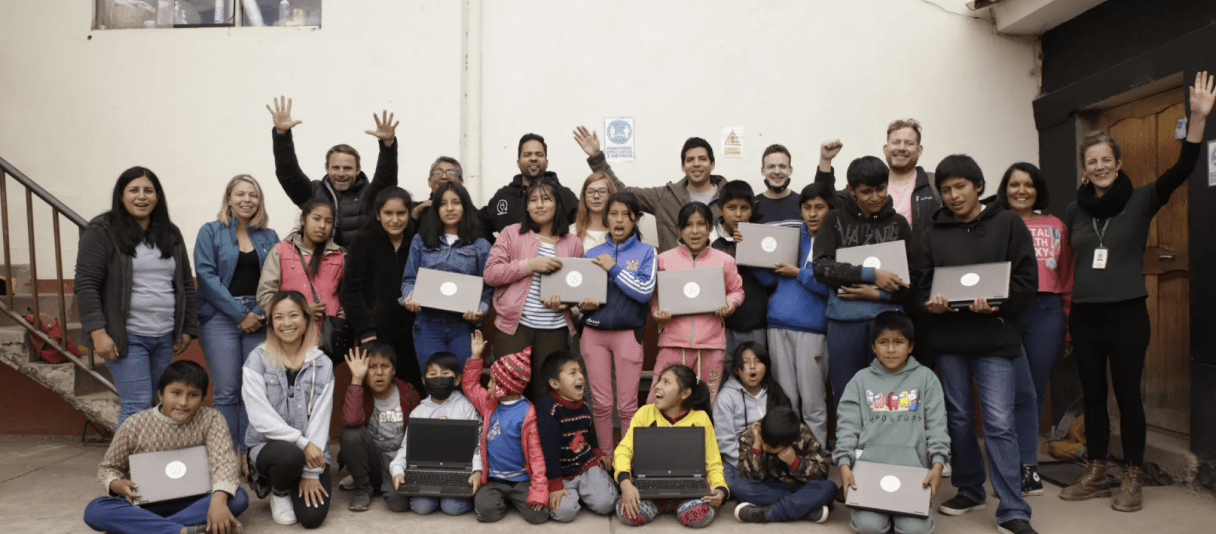 These following companies are two of the main organizations that have given us the opportunity to create events to contribute to the children of the community of Cusco, Peru.
eSmart Recycling is an electronics recycling company located in Tampa, United States, and its great initiative was the donation of computers to the Peruvian NGO Añañau.
Guru Explorers and eSmart Recycling joined forces with the aim of improving the education of children in the most vulnerable areas of the Peruvian Andes.
It was through this shared vision of social responsibility that Guru Explorers was able to put into practice the responsible tourism that promotes our activities and that, thanks to them, allowed us to join forces with eSmart Recycling and the NGO Añañau to carry out unique experiences among the collaborators who traveled from Tampa to Peru to deliver the computers.
We plan to continue working with Añañau, who opened the doors to this initiative, and to persevere with this project on an ongoing basis, by getting groups of travelers who can help in any kind of way to achieve these goals (as in the case of those who brought the laptops donated by eSmart Recycling)
At the same time that we continue to create new responsible tourism activities in the communities that are part of the educational project.
Our goal is to generate a long-term impact on the education of children living in the most vulnerable areas of Peru, providing them with technology and economic development from responsible tourism.
If you want to contribute and make donations please do not hesitate to contact us, we will be more than willing to receive any help you can do in favor of improving the lives and development of families who need it most.
Finally traveling and being an explorer who wants to enjoy the beautiful sights that Peru or any other country presents us with is not only about paying for luxuries and comfort but also using our knowledge to collaborate in improving the cultural environment of each community.
In Guru Explorer we like to give back in a positive way to the local communities, achieving this by collaborating with the families of the small towns that invite us to use their land to do tourist activities with you. This is how we promote responsible tourism and put it into practice hoping and wishing that you want to be part of it.
Do you want to get out of the routine? Do you want to do more than just a trip?
We care about your time and we plan it responsibly.