Peruvian food is characterized by a special flavor and a great variety that can be enjoyed anywhere in the country. This is due to the influence of different cultures and the use of inputs from each area of the country. 
For this reason, the food from the Peruvian jungle is considered one of the most delicious in the world.  This is due to its ingredients, textures and flavors of a great variety of meats, soups, fish, salads, rice and much more. 
The best dishes of the Peruvian jungle
Below you will find a selection of the best dishes of the Peruvian jungle, so that you can get to know a little of the gastronomy from this part of the country.
Tacacho con Chorizo y cecina 
This is a dish that represents the Peruvian jungle and is made of roasted or fried green banana, which is mashed and mixed with pork lard. This preparation is accompanied with cecina which is dried and smoked pork.
This dish also includes chorizo, a sausage made with ground pork and intestines of the same animal, which is very well seasoned.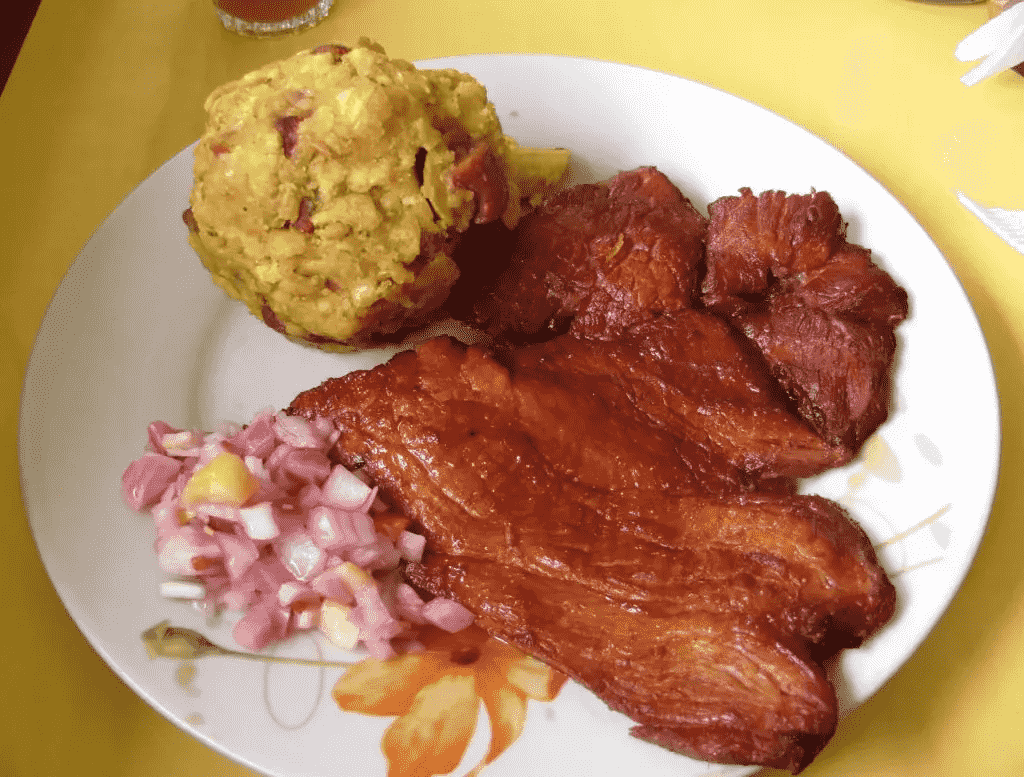 Inchicapi 
This is a delicious chicken soup considered a traditional Amazonian dish. Its main ingredient is free-range chicken, liquefied or ground roasted peanuts, corn flour, cilantro and yucca.
Inchicapi, besides being delicious, is a dish rich in proteins and vitamins, which is why it should be included in the diet.
Ensalada de chonta 
This is a dish originating from the Peruvian Amazon, it is widely consumed in the San Martin region. The custom is to enjoy this delicious and fresh salad during the days of Easter.
The main ingredient is the chonta which is a palm tree from which the interior is extracted and whose natives consider its heart. Other plants can also be used, including acai, pijuayo, coconut trees and jusará.
To prepare this original dish, the chonta is cut into small pieces and washed two to three times since it has a strong odor. Then it is drained and mixed with tomato, onion, avocado and other vegetables that are to the liking of the person. Finally, lemon is added according to preference. 
Arroz Chaufa Charapa
This rice is a mixture of flavors in a version of the classic Arroz Chaufa in which the smoked flavors and those of oriental food are concentrated, but made with products from the Peruvian jungle such as Amazonian chorizo and jerky.
Cazuela de pescado
This dish, which can be enjoyed by the whole family, is based on fish and is one of the most delicious dishes of Peruvian gastronomy. The fish casserole is a stew based on fish and a variety of mollusks, among them are: mussels, octopus, sea bass or hake, squid, shrimp, grouper. 
These products are mixed with boiled rice and vegetables such as tomatoes, carrots and peppers.
Purtumute
This dish consists of a stew whose main ingredient is black beans, white beans and seasoned with cilantro and hominy. Some preparations add pine nuts or corn, but these ingredients are optional.
Juane
It is a dish originating from Moyobamba. It has a very pleasant flavor that can satisfy any palate. This dish is similar to the tamale, but much bigger and more elaborate. It is made with eggs, rice and chicken. The rice completely covers the well-seasoned chicken and the egg cut in pieces as if it were a blanket.