The Peruvian coast is known for its culture, traditions, beautiful landscapes and its varied gastronomy. The typical dishes of the Peruvian coast are delicious and only Peruvian products are used in their preparation.
The typical dishes of the Peruvian coast are divided into Creole cuisine and marine cuisine adapted to each region according to their customs and products. Any of these dishes represent the history and influence of different cultures, but with pleasant and nutritious flavors.
Best typical dishes of the Peruvian coast
Below are some of the best dishes from this beautiful region of Peru:
Ceviche 
The traditional dish of the Peruvian coast and best known in the world is ceviche. In 2004 it was declared Cultural Patrimony of the Nation. There is also a National Ceviche Day.
The main ingredient of this dish is fish, it also has onion, salt, lemon, coriander, pepper and chili. The ingredients are all mixed together in a bowl and left to rest for approximately 20 minutes to be able to enjoy it. 
There are also other types of ceviche such as: mixed ceviche, black shell ceviche, shrimp ceviche, octopus ceviche, toyo ceviche, Amazonian ceviche, chinguirito, duck ceviche.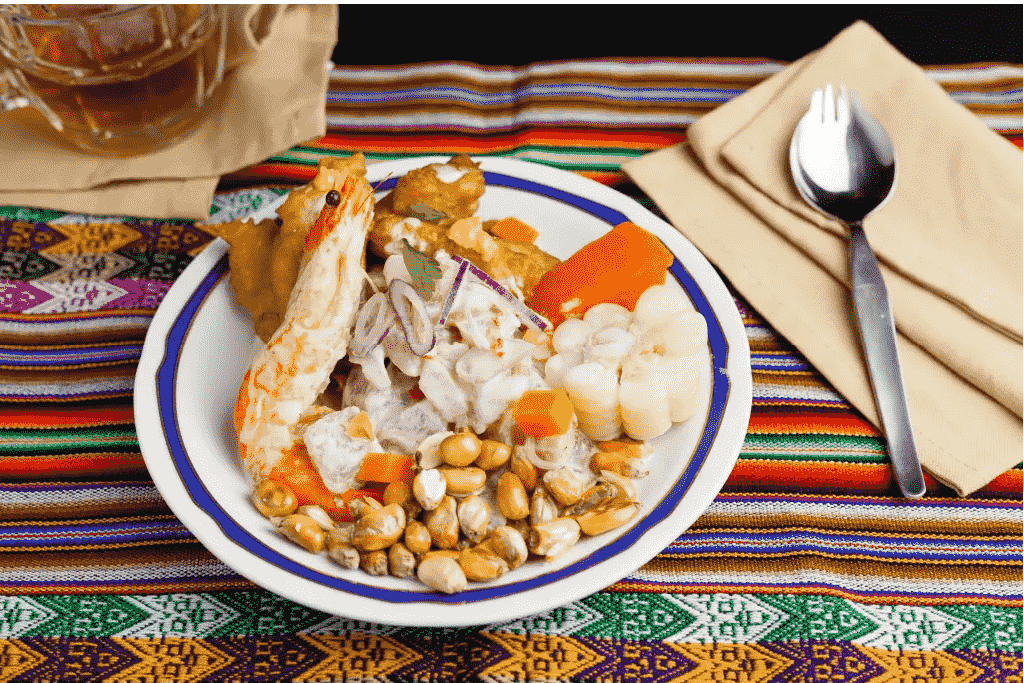 Carapulcra con sopa seca 
This is a stew that is considered the oldest in Peru and is originally from the city of Chincha which is located in south-central Peru. This dish is prepared with hot stone, which is a way of cooking of the Aymara people.
Carapulcra with dry soup consists of the union of two traditional dishes which are dry soup and carapulcra. The preparation was originally made with alpaca or llama meat. Nowadays it is cooked with pork or just chicken.
Ají de Gallina
This is one of the best known dishes in Peru, not only because of its pleasant taste, but also because it is easy to prepare. This dish arrived in Peru through the Spaniards and was transformed over time to what it is today.
This is a broth of shredded chicken, which is boiled with ground walnuts. Then it is added to a stew with bread, yellow chili, garlic, parmesan and onion to finish cooking.
To serve this preparation a base of white rice and boiled potatoes is placed. It is also served with boiled egg and olives.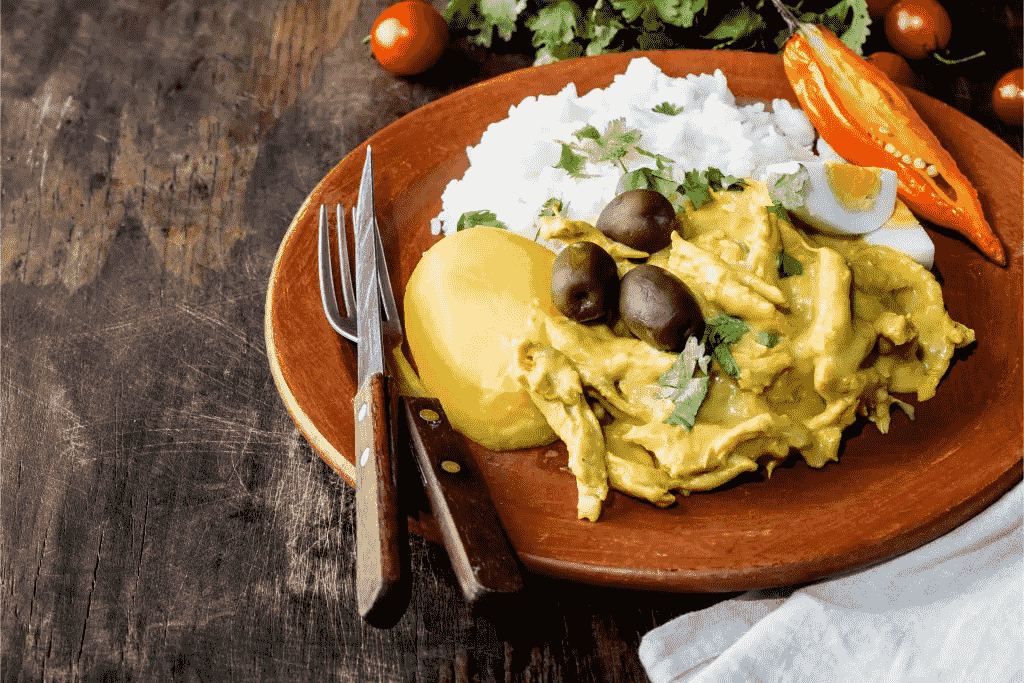 Causa Limeña
The causa limeña was prepared in ancient Peru with yellow potatoes that were kneaded with crushed chili bell pepper. In the viceroyalty, lemon was added, which gave rise to the ingredients and the current presentation.
This dish is prepared with boiled egg, avocado, potato, black olives, yellow bell pepper, lemon and lettuce for decoration. This preparation can be filled with chicken, trout, tuna, seafood and other types of meat to which mayonnaise is added.
There are currently some variations such as the causa acevichada, which is a potato dish with a filling and ceviche on top.
Seco de Cabrito
This is one of the most traditional dishes in the northern coast of Peru and it is originally from the Arab culture. Although it was brought by the Spaniards when they arrived in America, over time it was transformed to become the typical dish of the Peruvian coast.
In this dish Cabrito is cooked as a stew or stew, to which garlic, cilantro, onion and chili are added. It is usually accompanied with rice, yucca and beans, it is usually prepared in special celebrations.