Peru is considered one of the richest countries in terms of tourist attractions. You can invest any amount of time visiting this wonderful country, but the reality is that you will always lack things to know and do.
 One of the most prominent tourist attractions in Peru and that is increasingly able to attract the attention of more tourists, is Huacachina.
It is a place located just 5 kilometers from the city of Ica and that will undoubtedly leave you shocked at first impression.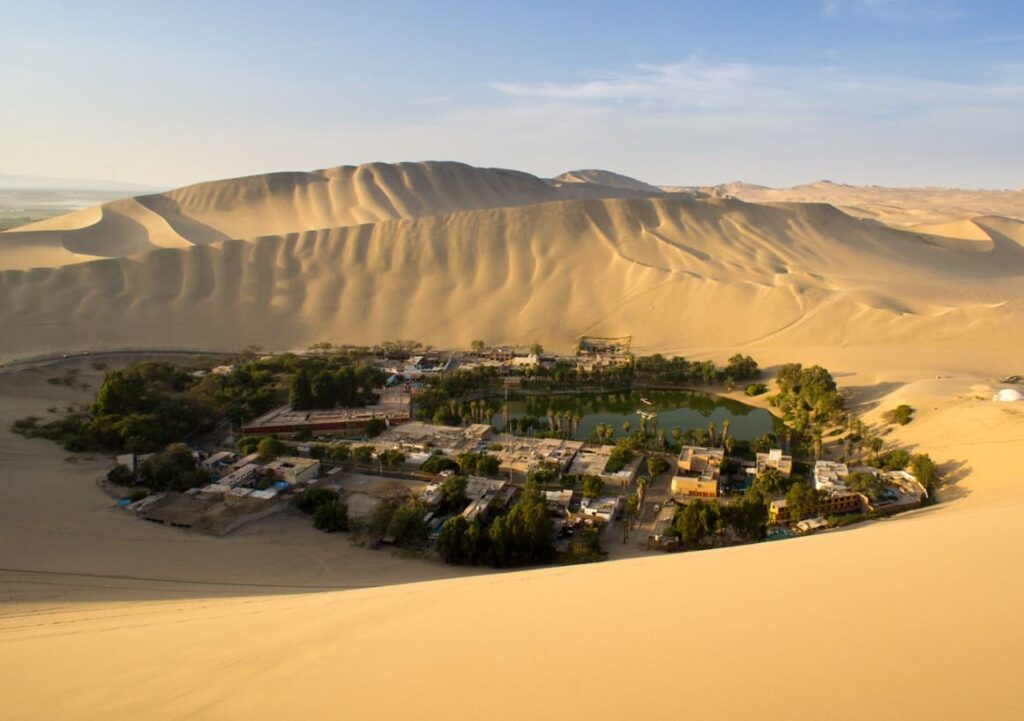 Why go to Huacachina?
Closeness to Lima
  One of the reasons why this has become one of the main tourist destinations in Peru is because it is a town that is located a few hours from Lima.
It is an oasis located in the middle of the desert that will only take you 5 hours to arrive if you are in the capital of Peru. 
Guaranteed fun!
  As it is a place surrounded by sand dunes, they make it a perfect area for practicing adventure sports full of adrenaline, such as Sandboarding.
  Another of the sports attractions that you can do in this place is to ride in tubular cars through the sandy mountains that are in Huacachina. 
Wine and Pisco Wineries
In addition to the incredible adventures that this destination offers, you also have other alternatives to make your trip a complete experience.
Close to Huacachina you can find different wineries and wine and Pisco distilleries, where you can opt for guided tours and tastings in the most traditional wineries in America.
You can include visits to these wineries in your tours with Guru Explorers. Do not miss it! 
Spectacular scenery
Huacachina is known worldwide as an "Oasis in the desert" , something that has allowed it to gain great global recognition that translates into the visit of more and more people who come from all over the world just to know the beauty of its landscapes.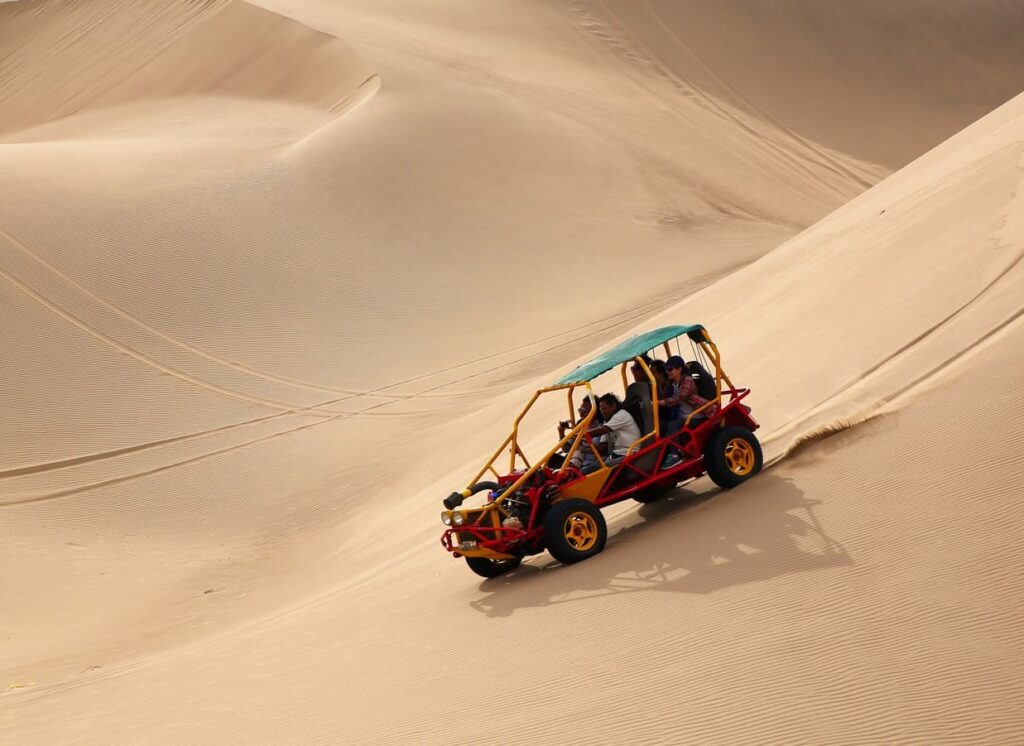 Where to stay to sleep in Huacachina?
If you intend to visit Huacachina, there are many lodging alternatives that you will have at your disposal.
  Some people visit the town of Ica and prefer to stay near the city. However, there is an interesting number of hotels, hostels and Airbnbs that are in the surroundings of the Oasis, an option that is considered the preferred by many.
Where to eat in Huacachina?
The Huacachina Oasis is located in a small town where you can find different options to eat around the lagoon or its boulevard. Hotels or hostels also offer various types of food from local to international.
Where is Huacachina located?
The Huacachina lagoon is an oasis that is located just 5 kilometers from the town of Ica. This means that you are literally in the middle of the desert.
As soon as you see this natural paradise, you will be enchanted by its emerald green waters, a color that is due to the outcrop of the currents that are in its depths.
How far is Huacachina from Lima?
 Huacachina is located 308.5 kilometers south of the capital of Peru, so it will take you approximately 4 to 5 hours to reach this wonderful place.
What to do in Huacachina?
Extreme sports
 In addition to its incredible landscapes, Huacachina draws the attention of many people for all the activities that can be done in this place. Riding Buggies and Sandboarding are some of them.
 These types of activities are considered adventure sports that are carried out on the dunes that surround Huacachina, this being an activity that does not represent any type of danger, since they are carried out with all the necessary precautions.
Tourist visits
You can also visit various Wine and Pisco Wineries, where you will receive an extensive explanation of the process of making the wines that are produced in each of them, as well as having the opportunity to taste some samples that are available. 
Camping in the desert!
This has become one of the favorite activities for tourists who take the initiative to visit the place. Imagine camping in the desert and sleeping under a star-filled night in the middle of this oasis! 
How was Huacachina formed?
At first it was one of the most exclusive spas in Peru. This was the reason why houses and hotels began to be built around it with the aim of attracting the attention of people from all over the world.
Over the years, the oasis in the desert became a completely tourist place, this being the reason that promoted the erection of a beautiful boardwalk located in the surroundings of the lagoon that made this space one of the most beautiful in the city.
How to visit Huacachina?
There are multiple ways to travel to the Huacachina oasis. If you are in Lima, the most used option is to travel through the Panamericana Sur highway. You can take interprovincial buses or travel in a private vehicle. 
In case you decide to take a bus, it will go to the city of Ica and once you are there, Huacachina will be very close, so you can get there by taxi.
In the Guru Explorers tours, we include transfers from your accommodation in Lima and we take care that you arrive at your destination safe and sound.
How is the weather in Huacachina?
Huacachina's climate makes it a perfect place to be visited throughout the year.
  This is because its climate averages 25 ° C during the summer. However, the climate is capable of decreasing to 14 ° C in winter, so it is possible to experience cold nights during these seasons.
How far is Huacachina from Paracas?
They are practically neighboring towns. To go from Paracas to Huacachina, you will only have to invest 1 to 1.5 hours of your time to reach this natural paradise located in Peru.