What to see and visit in Cusco? Tips for an unforgettable trip
Cusco is one of the cities with most history to learn about in Latin America, its culture is very rich in many aspects and it is full of incredible places to visit. From archaeological sites, museums, churches with colonial buildings, to restaurants and bars where you can enjoy one of the most renowned cuisines in the world.
If you're wondering, what to visit in Cusco, you should know that the offer is very wide and varied. This is one of the reasons why so many tourists come every year to visit the Imperial city.
In this article we are going to give you the information you need, from useful information about the city to the best places that you can see in Cusco. Do not miss this complete guide to make your trip a unique experience.
What should you keep in mind when traveling to Cusco?
When you first arrive in this beautiful city, before you start thinking about what to do in Cusco, the main thing to consider is the altitude.
Cusco is located in the southeast of Peru and sits at 3,400 meters above sea level. For this reason, as is at a considerable altitude, when we arrive we need time to acclimatize ourselves.
Altitude sickness is very common, but there is nothing to worry about. The recommendations are to drink coca tea and lie down for a while. This is something that can really help us and after a few hours we will be ready to continue with what we have planned and go out to discover what to visit in Cusco.
When planning a trip to Cusco, another aspect to take into account is the weather. In this area, the climate is divided into two seasons; the rainy season, which runs from November to March, and the dry season, which runs from April to October.
In this sense, what we should know is that the dry season is the coldest time, especially at night and it is very important to always have a coat. And the rainy season is quite warmer, but at this time it is essential to always wear a waterproof jacket, since, even if it does not rain permanently, we never know when the water may surprise us.
Another factor to consider if we are going to visit Cusco is mobility. We must know what transportation options exist when going out to discover what to know in Cusco.
The first option, and the most used by tourists, is walking, since its historic center concentrates many places to visit that can be perfectly accessed on foot.
Another option widely used by those who travel to Cusco are taxis. There are taxis that run through the streets of the historic center and its surroundings and you can also get them through the Uber or Easy Taxi applications.
The city of Cusco also has a public transport bus service that runs around the historic center and also more remote areas. In fact, some tourists sometimes choose this option to reach some towns in the Sacred Valley, one of the main points of interest.
25 unmissable things to do or visit in Cusco
As we already mentioned, Cusco is full of history and is full of incredible places to visit. That is why here we are going to mention some places that we recommend visiting in Cusco to make your trip a truly unforgettable experience.
1- Plaza de Armas:
The Plaza de Armas is the heart of the historic center of Cusco. It is a place that we recommend visiting both day and night. It is surrounded by beautiful buildings from the time of the Spanish conquest. It is the ideal place to start a tour of the city.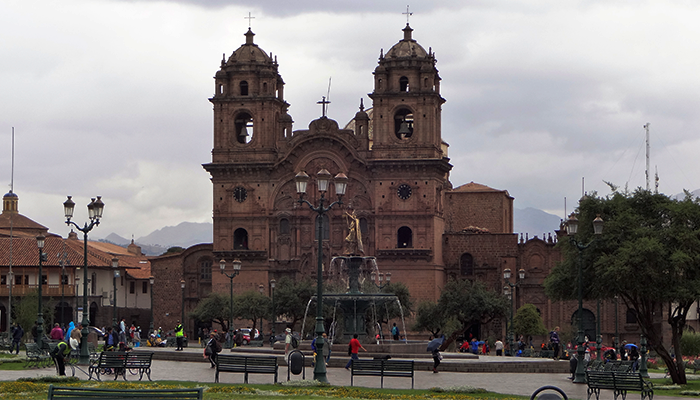 2- San Blas Neighborhood:
The San Blas neighborhood is one of the most charming places you can see in Cusco. It is located in the historic center. It is characterized by its colonial buildings, and very narrow, steep and cobbled streets that invite you to walk through them. Here we can find several craft shops typical of the area. And since it is located in the upper part of Cusco, from here you can see a beautiful panoramic view of the city.
3- Cusco Cathedral:
The Cathedral Basílica de la Virgen de la Asunción is located in the Plaza de Armas and is the most important religious temple to visit in Cusco. It is an imposing and large construction in which the baroque, gothic and renaissance styles are combined. An architectural monument full of art, not only on its facade, but also inside.
4- Church of the Company of Jesus:
The Church of the Company of Jesus is also located in the Plaza de Armas, in the historic center of the city of Cusco and is one of the most beautiful buildings that surround the square.
It presents an Andean baroque style and was built in the 16th century on the remains of the ancient Amarucancha, an Inca temple that used to be the palace of the Inca Huayna Cápac.
5- Museum of Pre-Columbian Art:
Among the many activities that can be done in Cusco, something extremely interesting is visiting its museums. Being a city with so much history, it has several museums that can take us on a trip to the past to learn more about the Inca culture.
The Museum of Pre-Columbian Art has a wide collection of objects organized in 10 rooms, among which we can find pieces from Andean cultures made of wood, ceramics, stone, gold and silver.
6- Inka Museum:
Another recommended museum to visit in Cusco is the Inka Museum. Here you can learn about the evolution of various pre-Inca cultures until the beginning of the Incas. This museum has a collection of important pieces such as vessels, fabrics, weapons of war and mummies, among others. Through its exhibition you can also learn about subsistence activities and techniques typical of these cultures.
7- Museum of Religious Art:
The Museum of Religious Art of the Archbishop's Palace of Cusco contains the most complete sample of colonial religious art. Its collection is distributed in thematic rooms where religious objects, canvases, colonial furniture, sculptures, ornamental objects and other relics can be seen.
8- The Stone of the 12 angles:
Between the stone walls of the Archbishop's Palace of Cusco there is something very striking that gathers tourists every day who come to see it; a stone with 12 angles.
This stone block belongs to the Inca culture and is considered a Cultural Heritage of the Nation of Peru. It is located on Hatun Rumiyoq Street, in the historic center of the city.
It is a characteristic sample of the ingenious Inca architecture and it can be seen that there are no asymmetries in their joints.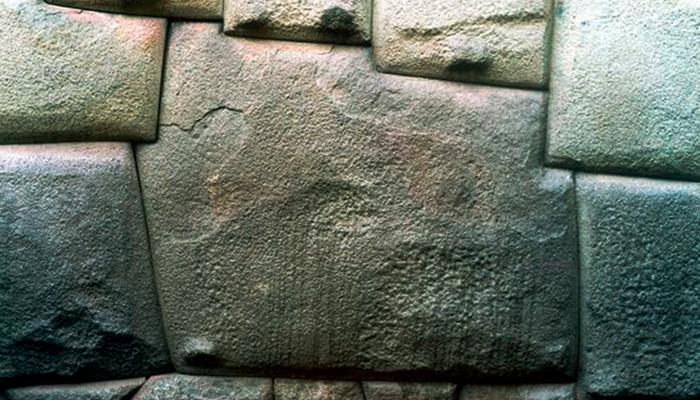 9- San Pedro Market:
The San Pedro Central Market is other of the interesting places to see in Cusco. Visiting it is quite an experience, which will fill you with flavors and tradition. This is the oldest market in the city and is well known for the number of stalls it has.
All kinds of products are sold there. You will be able to find handicrafts, weaving, try typical dishes and get cassava, corn, Andean potatoes, chocolate and excellent quality cheeses, among other things. An interesting fact about this place is that it was built by Gustave Eiffel, the creator of the Eiffel Tower in Paris.
10- Chinchero Market:
If you are visiting Cusco and have a special interest in getting excellent quality fabrics and textiles, you cannot miss the Chinchero Market. Located just 40 minutes away from the city, the town of Chinchero has a market that opens its fair on Tuesdays, Thursdays and Sundays and fills with colors the square where it is located.
Visiting the Chinchero Market is an experience for all the senses. There you can find numerous typical objects, from handicrafts to fruits, vegetables and jewelry. But what mainly characterizes this market are its textile elements handcrafted by its experienced weavers.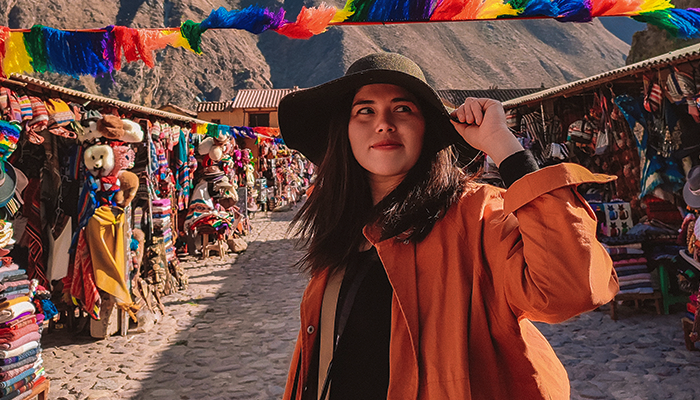 11- Taste Typical Dishes:
Another of the must to do in Cusco is to get to know its varied and delicious typical gastronomy. Within the wide variety of dishes that we can find in the different restaurants, the most recognized main dish is the "Cuy al Horno".
Normally, the "Cuy" is served with potatoes, corn, rice, salad and stuffed rocoto. It is a typical food from the area, which can be tasted both in restaurants in Cusco and in the towns near the city.
12- Taste Cusco Beer:
Continuing with the kind of things that have to do with gastronomy, something that we cannot stop doing in Cusco is to taste its typical Cusqueña Beer.
In the city there are different bars that provide a pleasant atmosphere to enjoy a delicious beer and being in Cusco, we cannot miss the opportunity to try it. Cusqueña beer is one of the most recognized Peruvian beers, it is a rather soft beer and presents the following varieties: double malt, gold, black, red and wheat.
13- Taste Pisco Sour:
Pisco is the national drink of Peru. It is a brandy that is obtained through the distillation process of grapes and its alcohol content is, on average, about 42°.
One of the most famous drinks in the country is prepared with Pisco; the Pisco Sour, which among its ingredients are also added, lemon juice, egg white, syrup, Angostura bitters, cinnamon and ice. A cocktail as delicious as refreshing. If you are visiting Cusco, trying a Pisco Sour in one of its pubs is something that you cannot stop doing.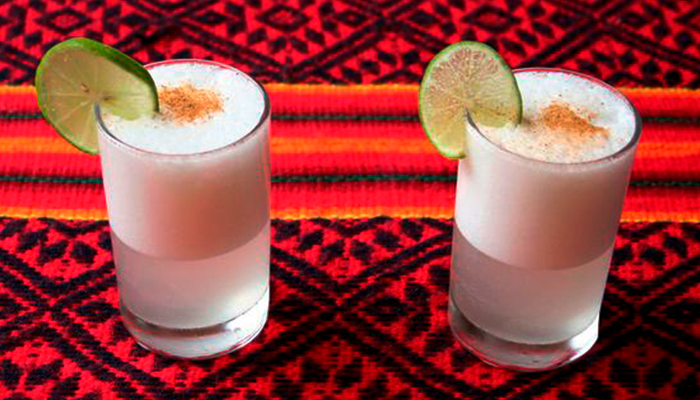 14- Machu Picchu:
If you are touring Cusco, of course, one of its obligatory stops is the ancient Inca city of Machu Picchu. Not only is it one of the main attractions of Peru, but it is also one of the 7 wonders of the world.
Machu Picchu is one of the most important ruins of the Inca civilization, it has wonderful landscapes, terraces and ancient amazing buildings.
To access this important archaeological site, you must take a train trip from the city of Ollantaytambo, and this is also quite an experience that you will surely enjoy.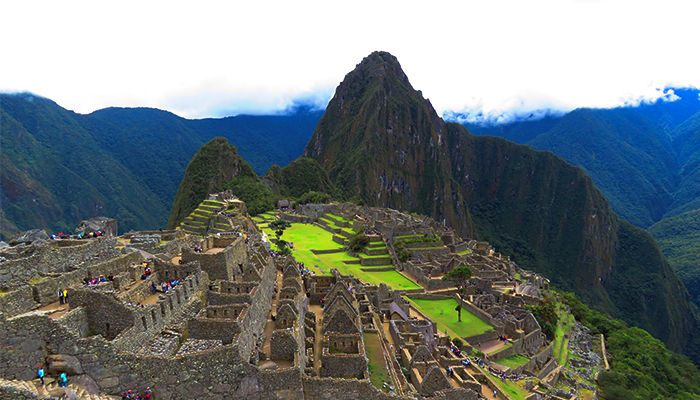 15- Tipón:
The archaeological complex of Tipón is one of the most interesting places to visit in Cusco. This site is considered a marvel of hydraulic engineering. These Inca ruins were built to worship water, and that is why they are full of pipes that, incredibly, are still in operation to this day.
16- Temple of Coricancha and Convent of Santo Domingo:
Coricancha was the most important and sacred temple of the Inca culture. There, ceremonies and rituals were performed and the sun was worshiped. It was decorated with silver, gold and precious stones.
In the 16th century, with the arrival of the Spanish conquerors, the upper part of the temple was destroyed and the Convent of Santo Domingo was built on its remains.
The Convent still preserves some solid stone blocks that are part of the original walls of the temple. These walls served to delimit different spaces creating different temples within Coricancha, such as the one of the Moon, the one of the Sun and the one of the Stars.
A guided tour of this site is another of the interesting things you can do in Cusco.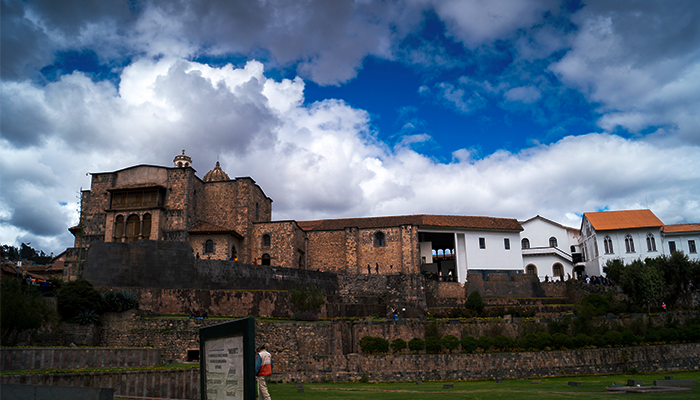 17- Sacsayhuamán:
Sacsayhuamán is located just 2 kilometers away from Cusco city. It is believed that this immense archaeological complex could have functioned as a military fortress or also as a temple for religious and ceremonial purposes.
Among its remains are extensive walls made up of large stone blocks, the largest of which weighs 300 tons.
From here you can appreciate a great panoramic view of the surroundings and the city of Cusco itself. Llamas and hawks are part of the typical fauna of this area. It is an unforgettable tour to enjoy both nature and history.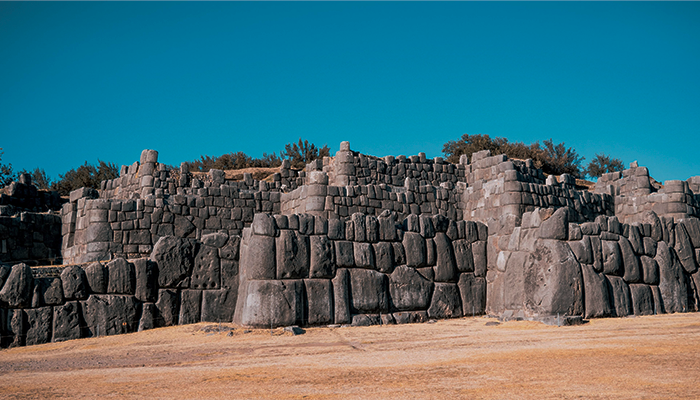 18- Pisac:
Pisac is located 30 kilometers away from Cusco. Here tourists can visit the town, the market and the ruins. It is a very crowded area as there is a lot to see.
In the town you can see the square and the church, as well as enjoy a varied gastronomy.
In the market you can see a wide variety of local traditional objects, such as textiles or handicrafts.
And in the archaeological site of Pisac you can see temples and carved stone constructions of a great variety, which are still in good condition. This archaeological complex is considered one of the most important Inca cemeteries, and also has privileged views.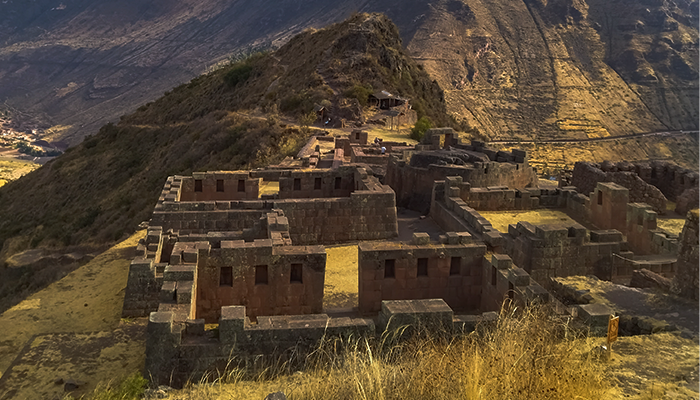 19- Ollantaytambo:
The town of Ollantaytambo has the unique characteristic of being a town that dates back to the Inca period, that is, the inhabitants are living in buildings from that time. The town still preserves streets, walls and canals and maintains the original design of centuries ago. Going through it is an experience that cannot be missed when we are getting to know Cusco.
The archaeological complex of Ollantaytambo has impressive buildings. It is a place that probably served as a fortress, but also has its agricultural and religious sectors. It is one of the most important sites to visit in Cusco.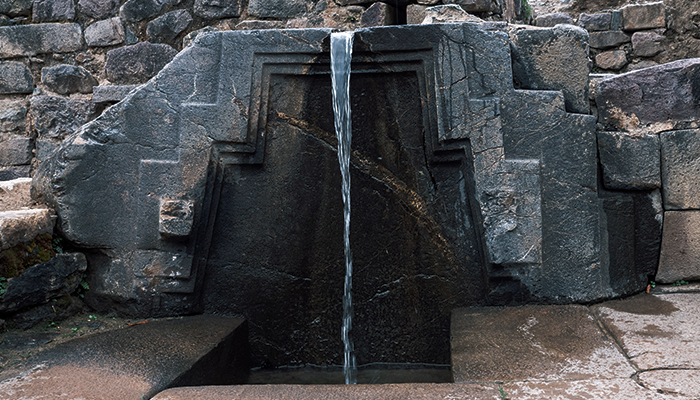 20- Moray:
Moray is another of the most interesting places to visit in Cusco. This archaeological site is located in the Sacred Valley. Its main characteristic is that it functioned as an agricultural laboratory for the Incas.
Thanks to its circular and stepped terraces, this site was used as a research center to experiment with different crops from different regions. The arrangement of its terraces generated various microclimates, allowing planting at different heights.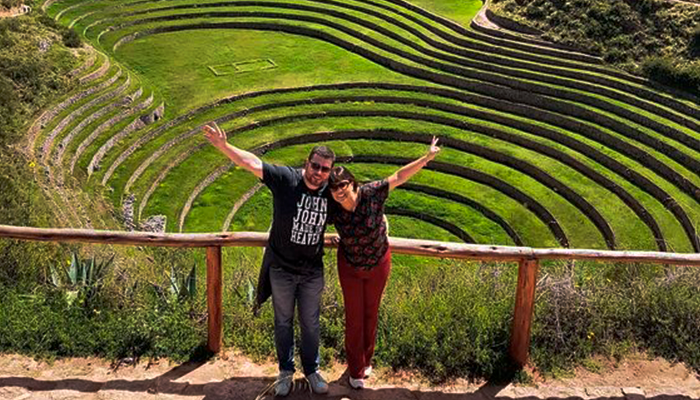 21- Salineras de Maras:
The Salineras de Maras are also part of the Sacred Valley of the Incas, and it is a necessary stop if we want to enjoy incomparable landscapes and obtain unique photographs.
The Salineras de Maras are made up of more than 3,000 natural salt pools, which have been active since Inca times. The inhabitants of Maras use these pools to obtain salt and commercialize it. The extraction of salt occurs ancestrally through a manual process.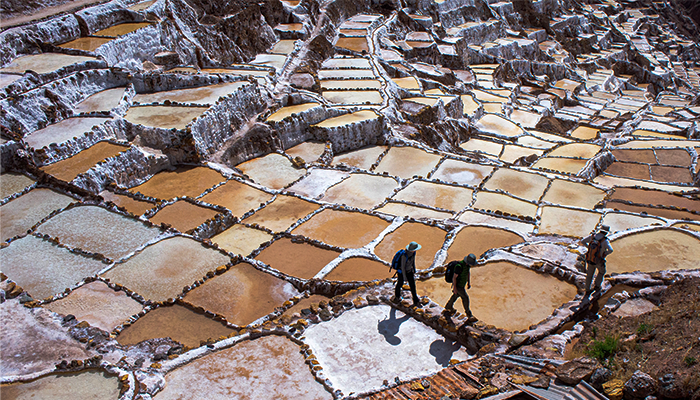 22- Mountain of the 7 Colors:
The Mountain of 7 Colors or Rainbow Mountain is located more than 100 kilometers away from the city and is one of the most visited places in Cusco.
The nuances it has are due to different minerals that cover the mountain in layers. In this spectacular place you will find landscapes that have no comparison. The typical fauna of the area are llamas, alpacas and vicuñas.
One of the recommendations when it comes to living the adventure of visiting the Mountain of 7 Colors, is to have trekking shoes.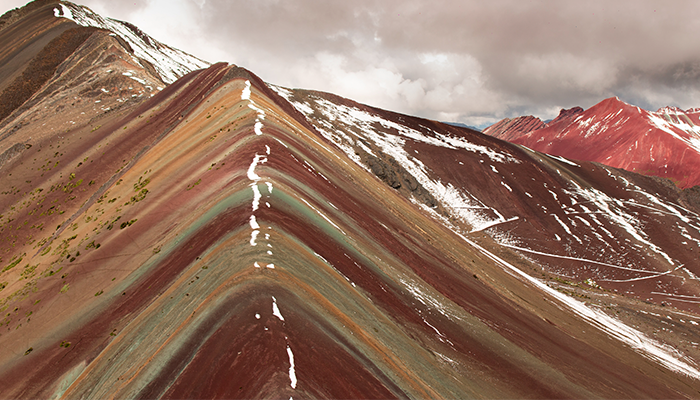 23- Morada de los Dioses:
About 9 kilometers away from Cusco is La Morada de los Dioses, also known as Apukunaq Tianan. This site is dedicated to the Gods of the Inca culture and there is a set of huge sculptures carved in stone that measure between 4 and 8 meters high approximately, which represent Pachamama, water, the cosmos, man, among others and were made by hand.
The place also presents pleasant views and one of the most attractive ways that can be accessed is through a quad bike tour. Ideal to add some adventure to your visit to Cusco.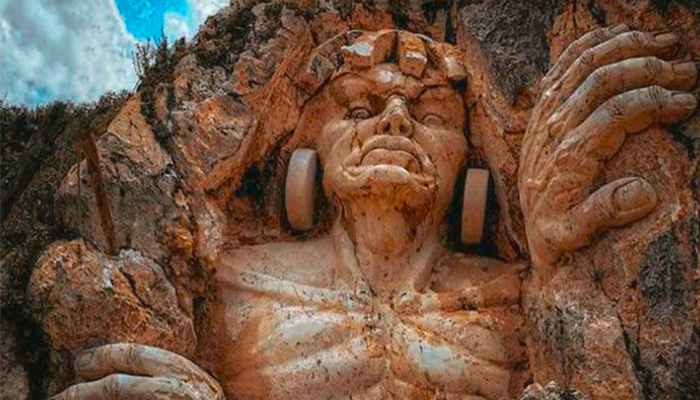 24- Humantay Lagoon:
For lovers of trekking and adventure there is this wonderful postcard; the Humantay Lagoon. If you are thinking of visiting Cusco, this is definitely one of the attractions to consider.
To get to this incredible lagoon of green and turquoise tones, you can take a tour that includes a walk to this site, while enjoying a true natural setting and being in full contact with nature. Undoubtedly, the hypnotic Humantay Lagoon is a destination that is worth it.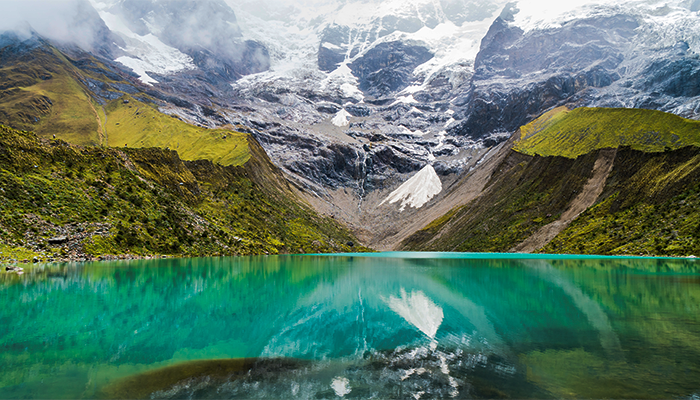 25- 7 Ausangate Lagoons:
This is an incredible destination for those who visit Cusco and have a great adventurous spirit. This set of 7 wonderful lagoons, adorned with intense blue, green, turquoise and reddish tones, are fed by meltwater from the immense snow-capped Ausangate, one of the highest in Cusco.
Each of the lagoons presents a special contrast and is surrounded by landscapes beyond description. Taking the tour of the 7 lagoons Ausangate is an experience that will make you enjoy nature to the fullest.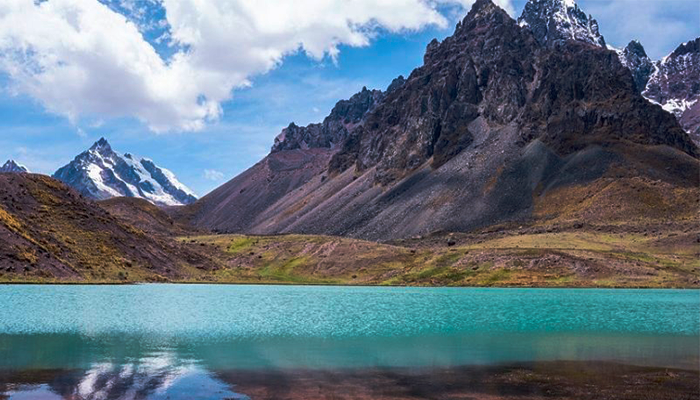 Conclusions
After mentioning all these tourist spots, we can note that the city of Cusco offers us a wide variety of options to enjoy it.
From contemplating unrepeatable landscapes, to learning about the history of the Inca empire in depth.
It is a city with a lot of life and a lot to offer, which has its doors open throughout the year for all those who want to live the experience and immerse themselves in this unforgettable trip.
Meet our tours in Cusco
From Guru Explorers we have to offer you a wide variety of tours in Cusco that include different attractions and activities. From destinations for those who like adventure, to options in which nature, landscape and history prevail. All designed so that you can enjoy your stay in this magical city to the fullest.
One of our most recommended tours is the Machu Picchu by train + Sacred Valley of the Incas Tour of 2 days and 1 night. A very complete tour, in which you can see some characteristic points of the Sacred Valley, such as Pisac and Ollantaytambo, the Inca town of Aguas Calientes, and of course, the famous and emblematic Machu Picchu.
This tour is an unmissable option to live 2 days immersed in the Inca culture and enjoy every step of your trip.