Traveling from Cusco to Puno: recommendations to keep in mind
Cusco and Puno are two very popular destinations in Peru, and they have attractions that you cannot miss if you are looking for an unbeatable experience of the country. However, the distance between these regions is usually an inconvenience, since many tourists do not know how to get from Cusco to Puno. For this reason, we are going to analyze which are the best options to enjoy the trip. Fasten your seatbelt!
How to get from Puno to Cusco?
The trip from Cusco to Puno is one of the most popular routes in Peru, and offers an impressive view of the Andes mountain range and the rural landscapes of Peru. There are several options for making this trip, from buses to trains, each with their own advantages and disadvantages.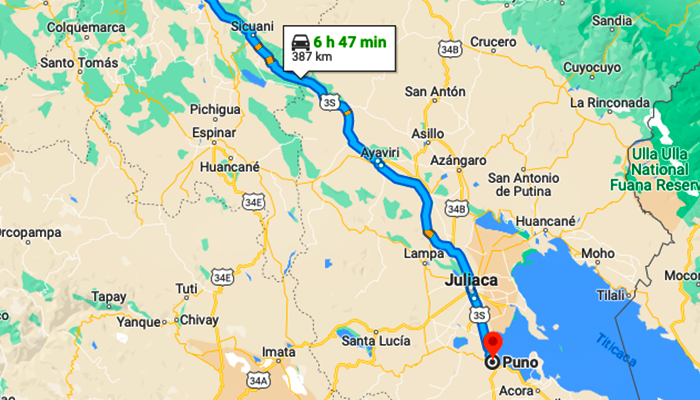 The main advantage is that depending on the type of transport that is chosen, you can find interesting regions and viewpoints that are open to the public. Some of them are:
Raqchi Archaeological Complex
You can also find restaurants and bars along the way, so you can enjoy a local lunch enjoying typical Peruvian gastronomy.
Options to travel from Cusco to Puno
Bus
The bus is the cheapest way to go from Cusco to Puno, and it is also the most accessible. There are several bus companies that offer daily services from Cusco to Puno, with a trip of about 10 hours. Most buses have comfortable seats and air conditioning, and some of them even offer services like on board entertainment and snacks.
Within our tours, you can find the Bus Tour from Cusco to Puno, in which you can experience a unique adventure and take advantage of every point of this journey. In addition, you will be able to discover the incredible gastronomic diversity along the way, something that few tourists can discover by visiting only one destination.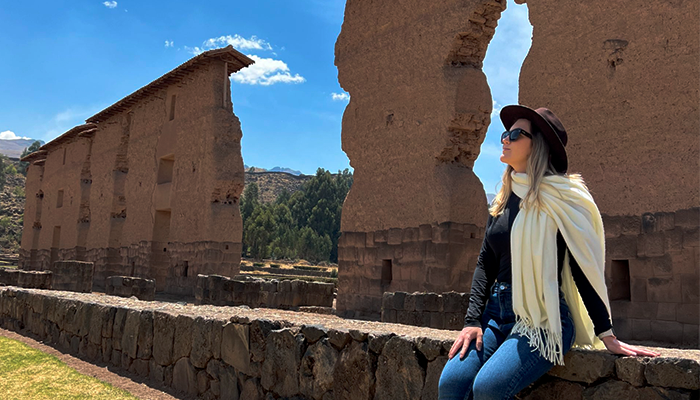 Train
Another option to go from Cusco to Puno is to take the train. This trip is more expensive than going by bus, but it offers impressive views of the landscapes of the Andes mountain range and is an experience in itself. The most recognized service is the luxury train "Belmond Andean Explorer".
The luxury train offers a more comfortable experience with first-class services such as a bar and restaurant on board. The trip takes approximately 11 hours and is a relaxing way to see the beautiful Andean landscape.
To learn more about this incredible option, we invite you to contact our sales advisors.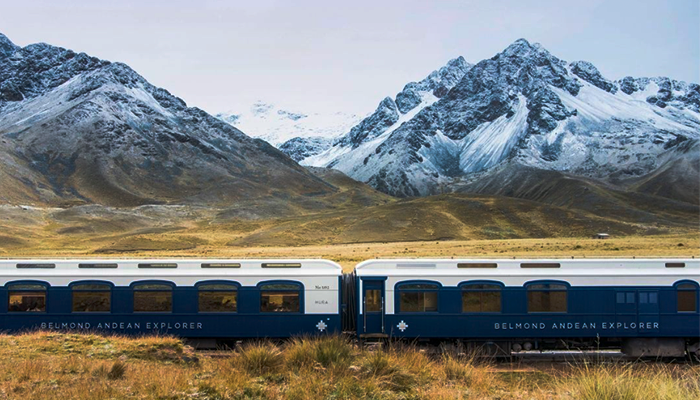 Car
If you want to have more freedom and flexibility, you can also choose to take a car trip from Cusco to Puno. This trip will allow you to stop at places of interest along the way, such as:
Andahuaylillas Temple

Raqchi Archaeological Complex

El Paso La Raya

The Pucara Museum
It will also allow you to have a private guide who will help you better understand the culture and history of the region. This type of service is a little more expensive than going by bus.
Plane
Going by plane from Cusco to Puno is a fast and convenient option for those looking for a faster way to travel. However, the opening of flights depends on demand, so we recommend checking with the airlines about the opening of direct flights from Cusco to Puno. The other option would be to do it with a stopover in Arequipa or Lima. There are several airlines that offer daily flights from Cusco airport (Alejandro Velasco Astete).
The direct flight takes about an hour and is an efficient way to reach your destination without having to worry about challenging mountain roads.
However, it's important to have in mind that flights can be expensive compared to other ways of traveling, and you may also have to wait on a waiting list during high season. Therefore, it is advisable to buy your ticket in advance to ensure that you have a place in the flight.
Why visit Cusco and Puno in a single trip?
Cusco and Puno are two of the most important and emblematic cities in Peru, each one with its own cultural, historical, and natural wealth. Knowing both cities in a single trip is a unique opportunity to experience and learn about the diversity and richness of the country.
We are going to analyze some reasons why you should not miss both destinations on your trip to Peru:
You will get to know the culture of Peru

: Cusco is known as the cultural heart of Peru and is home of many of the main Inca archaeological sites, including the Temple of the Sun and the Sacsayhuaman Fortress. On the other hand, Puno is known for being the cradle of the Aymara culture, with a rich history that dates back to pre-Columbian times.

You will be able to enjoy diverse natural environments

: Both destinations offer wonderful natural landscapes. Cusco is surrounded by impressive mountains, while Puno is located on the shore of Lake Titicaca, one of the largest and highest lakes in the world.

You will be able to learn about the typical traditions and festivities

: Cusco and Puno have a rich tradition of celebrations and festivities, including the famous Inti Raymi festival in Cusco and the Candelaria festival in Puno. These events offer a unique opportunity to immerse yourself in the local culture and see first-hand the traditions and customs of the region.

It is possible to make the trip enjoying comfort

: Traveling between Cusco and Puno is easy and convenient. There are several ways of traveling available, from flights to buses, which means you can choose the option that best suits your needs and budget.

You can take the opportunity to take a tour

: Of course, it is convenient to take advantage of this moment to take a

bus tour

and see attractions that would be inaccessible on other tours or excursions.
Conclusions
Traveling from Cusco to Puno in a single trip is a unique experience that can give you the opportunity to learn about the culture, nature, and traditions of two of the most important cities in Peru. It is an unforgettable adventure that will leave you with a deeper understanding and appreciation of the richness and diversity of this beautiful country.