Guru Explorers, together with eSmart Recycling and the NGO Añañau, participated in a laptop donation event with the participation of travelers who share responsible tourism. The delivery took place in September 2021 in the educational center of San Jeronimo, made up of more than 50 children and young people from 4 to 18 years old.  Our motivation to participate in this donation is to enjoy the joy of children and young people, besides being able to collaborate with their progress and intellectual development in difficult times.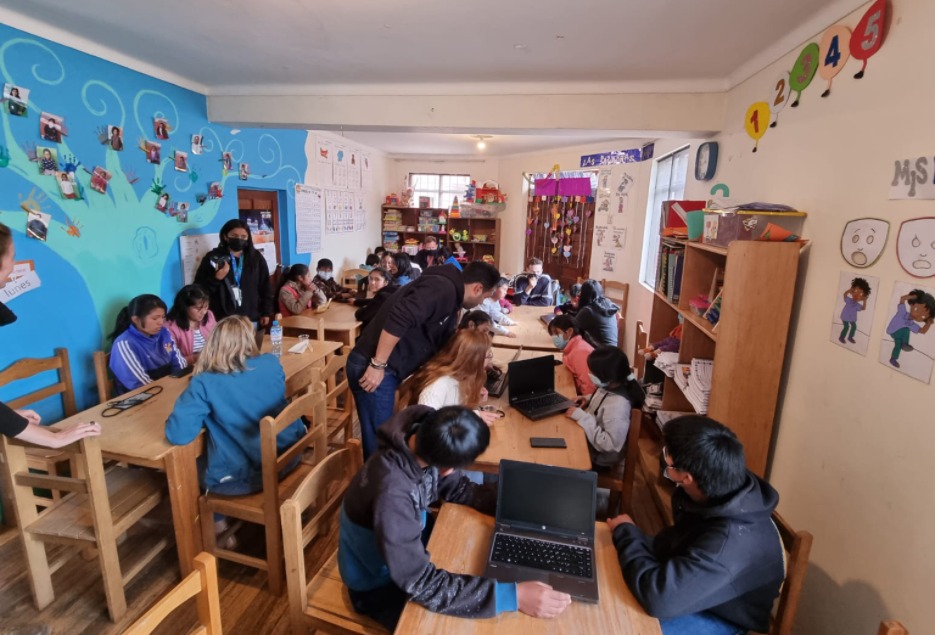 ¿How was the process to carry out the laptop donation?
Guru Explorers made a strategic agreement with eSmart Recycling, a company dedicated to electronic recycling that causes a great social impact for the benefit and improvement of the neediest communities, and the NGO Añañau. In this agreement they agreed to hold a laptop donation event in which they could put responsible tourism into practice. At the same time, they agreed to provide social assistance to the youngest members of families and communities in vulnerable situations.
The most important part of making this initiative a reality was the participation of the travelers who were part of an adventure where they got to know new frontiers and were in charge of making this donation possible.
Let's remember that technology is often a privilege for those in vulnerable situations. These groups lack access to everything that is common and daily for us, such as having a computer, a smartphone and internet. This means great job or study opportunities to advance and develop better professionally.
Having this equipment helps children and young people from the most vulnerable communities to receive adequate computer training. So that they can use a laptop and, in turn, learn and know how its programs work.
It is also essential to have the technology to have access to updated information through internet searches. A better knowledge and development in terms of electronic equipment allows them to better develop their professional skills in the future. 
¿ Who brought laptops to Peru?
It was the travelers who promote and encourage responsible tourism who helped us make this beautiful initiative a reality.
The tourists came from Tampa, USA. Here they received the equipment (laptops) and traveled to the Andes of Peru. In our country they visited landscapes and tourist attractions and shared with the children who are part of the NGO Añañau who received the donation.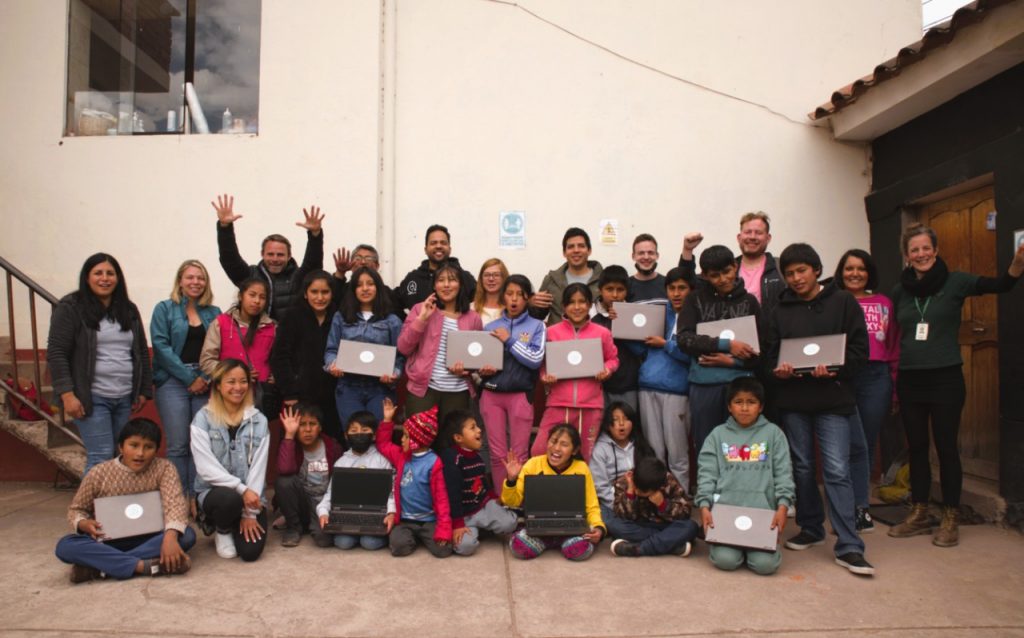 The Laptop Donation Event
The group of tourist travelers from Tampa practiced responsible tourism and joined our initiative. To do so, they searched for the equipment that would be part of the laptop donation. E-Smart Recycling delivered the laptops before the travelers left for Peru.
Once the travelers arrived in Peru, they enjoyed the tourist attractions, seeing iconic places such as Lima and Cusco. They were also delighted with great scenery while learning more about our beautiful culture.
They also had the opportunity to get to know our country in depth, where they saw the reality lived by many families belonging to the most vulnerable communities.
We met the youngest members of the NGO Añañau, and witnessed the delivery of 10 laptops to the educational center of the NGO Añañau (San Jerónimo branch). This center is made up of more than 50 children and young people from 4 to 18 years old.
There is nothing more exciting than enjoying the joy of children and young people receiving significant help for their progress and intellectual development. All this, taking into account that they are the ones who represent the future of the country.
Having this technological equipment is a great help during these difficult times, and even more so for vulnerable communities that cannot easily access many conveniences.
And that was not all…
Not only did we enjoy a moment of joy and gratitude, but we also shared with them and their families. During this event we were able to get to know them better and learn what the inhabitants of the community do; they also taught us about the raising of small animals, the sale of chicha de jora and also about the sale of food in the local markets.
During this event, the inhabitants received a small but significant economic income. This was achieved by supporting them with the purchase of the culinary delights they offered us during our stay
Definitely, all of us who had the joy of living that moment enjoyed sharing with the inhabitants of a community, which was more than grateful to receive us with open arms and give us the best of them in terms of attention and kindness.
The community made us feel at home, they allowed us to learn about their customs which they kindly and enthusiastically showed us. We also learned about their needs, which undoubtedly surprised many.
We plan to hold an event next year where we will have the opportunity to continue helping to improve education in vulnerable communities in our country.
We can only thank the travelers, eSmart Recycling and the NGO Añañau for letting us be part of such a beautiful initiative that allows us to help those who need it most.
And you, are you already part of responsible tourism?